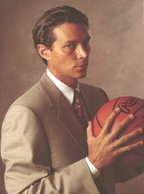 And I'm not talking about "Eye Of The Tiger."
The Zou, a Mizzou blog (get it?) runs down the impressive list of lowlights of pretty-boy Quin Snyder's career in Columbia.
Yeah, it was a rough ride, but at least he can fall back on modeling (I mean look at that picture! Do you think the photographer asked him to make love to the camera? Ooooh, yes Quin, baby! You're sexy! You're an animal. Click. Click. I love it! Now, growl at me. You're a tiger! Click. Click.) or maybe selling hair product.